Here at Stocksigns we have a passion for raising money for charity. We recently completed the monstrous 3 peaks challenge! This adventure saw us climb the 3 highest peaks in Scotland, England and Wales in a 24 hour period raising money for RoSPA's Brighter Beginnings campaign. We managed to successfully raise £4,110 which exceeded our target through the kind donations from our sponsors, family and friends.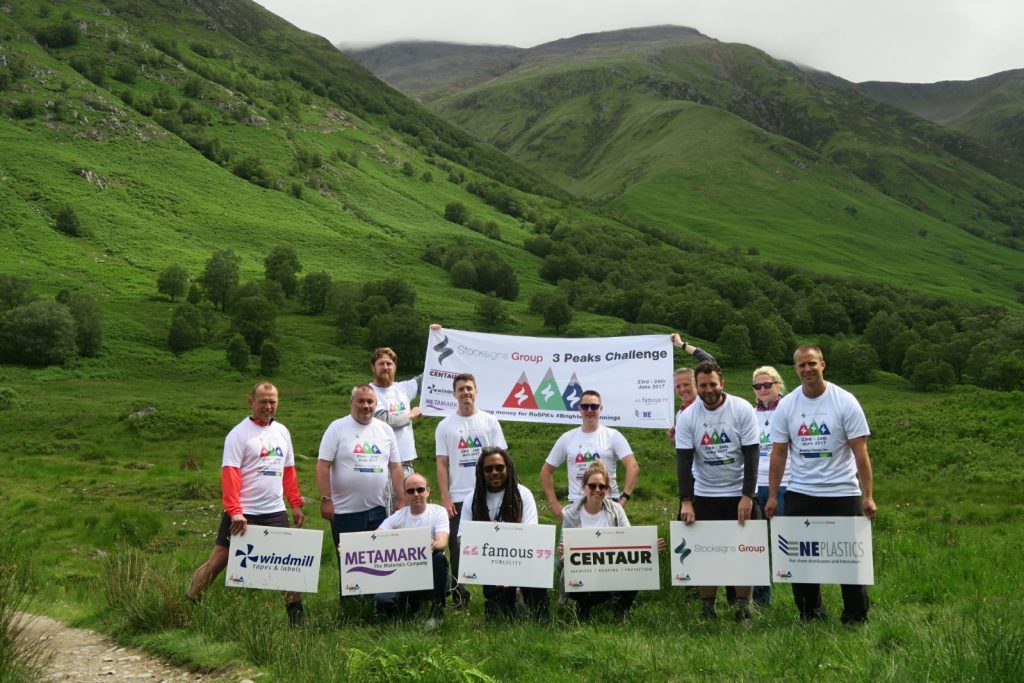 Scotland: Ben Nevis
We traveled up to Scotland to start our challenge – a very long 12 hour minibus journey! We set off on the afternoon of Friday 23rd June all fresh and full of life! Our first mountain was the beastly Ben Nevis.
We reached the wet, windy and freezing cole summit at a massive 1345m!
We then carefully made our way down and  bundled back into our minibus to travel south to England. Our driver Pete drove us through the early hours before trip leader Dave took over and threw our poor bus down some tiny, windy country roads at what felt like 100mph!
England: Scarfell Pike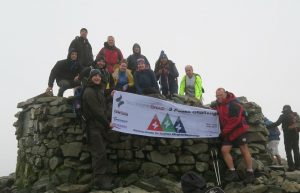 We started our ascent in the pitch black at 3am equipped with head torches to light our way.
Easily the most technical mountain to climb with some very difficult terrain. We reached the (again) wet, windy and cold summit at 978m.
We descended carefully as the fatigue and pain started to set in. Reaching the bottom we climbed back into the minibus to start making our way to Wales. The journey took an age but spirits were high as we were eager to finish the challenge. We arrived at Snowdon with seized legs and screaming knees.


Wales: Snowdon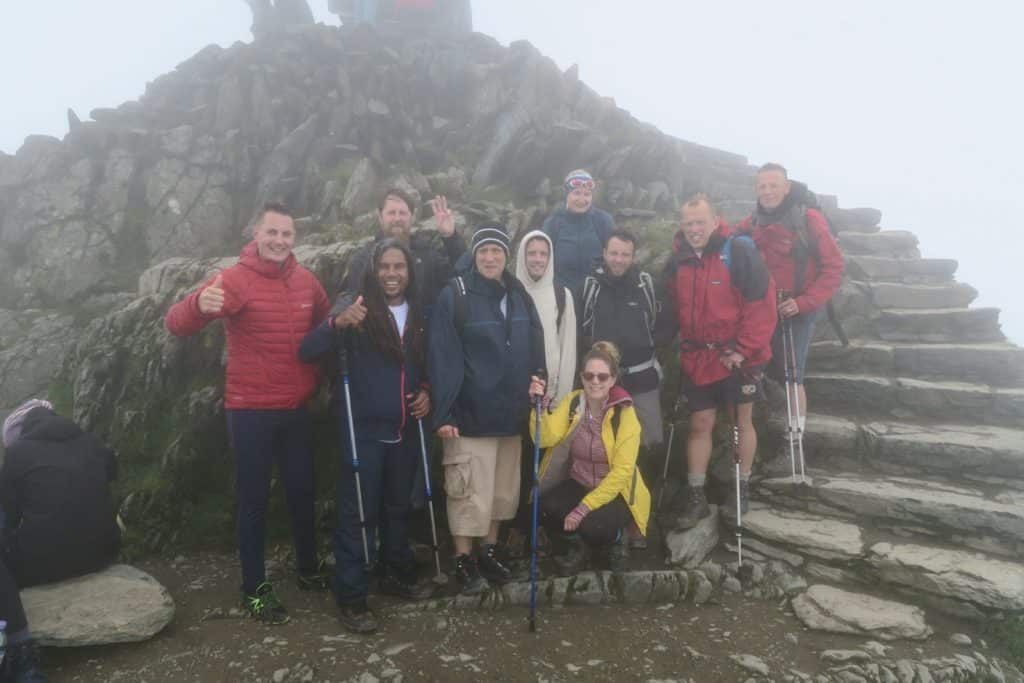 For the final part of our challenge we had to dig deep. We marched hard and steady to the top.
After what seemed like forever we finally reached the summit at 1085m.
We then started our descent at a good pace, eager to finish the challenge. Many painful steps later and we finally reached the end.
We finished the challenge in the allotted time of 24 hours – with 10 hours of driving and 14 hours of walking. A well deserved drink was had and a wide variety of moaning and murmurs of pain was heard for the long journey back to Surrey!
Raising money for RoSPA's Brighter Beginnings
We put ourselves though this mighty challenge to raise money for our partner RoSPA's (The Royal Society for the Prevention of Accidents) Brighter Beginnings campaign. Celebrating 100 years of reducing risk RoSPA have decided to focus on looking to the future to keep children safe. With accidents being the largest killer of children and young people they have decided to implement some fantastic features to promote safety such as:
A Parent Hub – with helpful information to keep children safe such as bedtime and bathtime
A free phone helpline called Life line, developed for parents to give advice and support in protecting their children from accidental harm
To find out more about this great campaign click here.With healthy & safety being at the heart of what we do, being able to support RoSPA in keeping children safe is a cause we are proud to support! You can find out more about our partnership with RoSPA by checking out our page.
The total raised…
At the start of the year we started a campaign to donate 20p from every health and safety sign we sold from January to March. This money coupled with the £4,110 from our 3 peaks challenge gave us a whopping total of £7,831!!! Our Managing Director Danny proudly handed over the cheque at the RoSPA awards in July.