At Stocksigns, we have an experienced and knowledgeable team. Here, we talk to Steve Wright, Highways Development Manager at Stocksigns to find out about his current role, the most common issues he supports customers with and his future ambitions for the company.
Firstly, please can you tell us about your career history and background prior to joining Stocksigns?
After leaving school in 1976, I primarily worked in the construction and civils industries, accumulating various certifications including a City & Guilds qualification in Bricklaying. During my time working in the civils construction industry, I took on a number of positions from labouring to supervisory and managerial roles, giving me a strong 'ground up' knowledge of the industry and how it operates.
I first moved into the sign industry in 2006, working as an installer for a small local business, before later joining a Tier 1 contractor for the Highways Agency Network. Since then, I have accumulated thirteen years of experience within the sign industry, a decade of which has been in senior managerial roles. Finally, I joined Stocksigns Group in 2018, working with both Stocksigns and Messagemaker Displays Ltd. as Highways Development Manager.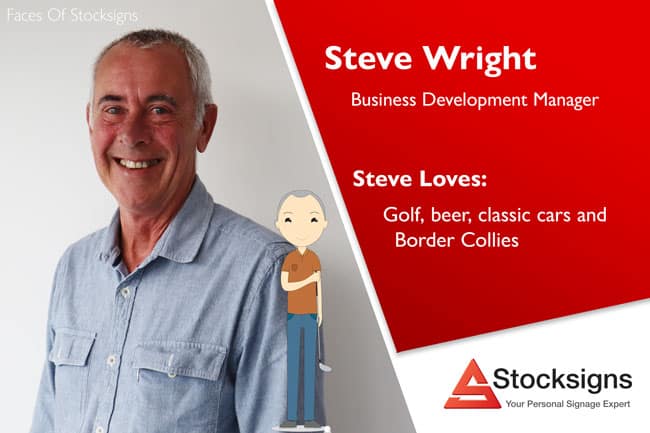 What does your current role entail?
My role for Stocksigns and Messagemaker Displays is quite varied, but I spend the majority of my time developing new business, particularly in the highways market for both brands.  My background in the manufacturing of permanent road traffic signs has helped us grow our client base in this market.
In addition, I have a real passion for health and safety, the environment and quality assurance. This has enabled me to help with the company's recent ISO and Construction Products Regulation (CPR) assessments.
Can you talk us through an average working day for you?
At the moment I am mostly working from home due to the restrictions of the pandemic. However, an average day for me still includes monitoring contract announcements, contacting both existing and prospective clients and producing quotes, as well as looking after the company's accreditations and certifications.
As the restrictions lift and face to face meetings become possible again, I will be travelling around the UK to meet with clients and attend exhibitions as a representative of Stocksigns and Messagemaker Displays.
What is the most common issue or product that customers approach you for help with?
I regularly provide support to our customers during the specification of reflective signage to ensure that the correct solutions are selected. Some of our smaller-scale clients rely on the knowledge of manufacturers such as Stocksigns to ensure they receive the correct reflectivity, sign size or post calculations. I also assist many of our clients with the installation of permanent signage, providing advice and support.
Tell us about some of the clients you are working with at the moment?
One of my largest clients is Shift Traffic Events Ltd. As a major traffic management supplier, Shift Traffic currently employs 18 of our Variable Messaging Signs (VMS) for use on a number of sites across the UK. Among these VMS systems is the Tower Unit, one of our most innovative signage units, launched last year. The traffic management tool is designed with energy efficiency in mind and a much smaller footprint to make it ideal for applications where space is limited.
On a personal note, I am incredibly proud of the Tower Unit's concept as I played a significant role during its development process. Due to my highways and traffic management background I identified the need for a VMS system that did not require towing and enabled multiple units to be transported by a single vehicle. During the development process, I also discussed the Tower Unit's proposed design with one of our traffic management clients to receive their feedback to optimise the VMS for its intended purpose.
Following the original Tower Unit's launch, we have since introduced a second version with added features to provide greater flexibility to our customers. At Stocksigns, we are constantly looking at how we can enhance our product portfolio to benefit our clients' operations. Therefore, we have already started the initial design phase for a third edition of the Tower Unit.
What are you hoping to achieve over the next year with Stocksigns? Any projects in the pipeline?
 Personally, I think the biggest opportunity in the current market is the drive towards creating a more sustainable highways industry. As companies are increasingly looking to meet net zero carbon targets, systems that incorporate renewable energy will undoubtedly be the way forward.
Stocksigns is heavily involved in the development of a completely self-sufficient large format VMS. Operating on solar and wind generation while crucially retaining total messaging accessibility for network operators, this would be a significant step towards both government and industry targets. It is a really exciting project to be involved in.
Fun fact: What's your favourite book?
Animal Stories by Rudyard Kipling. I have a copy that was my dad's when he was a child and he taught me to read using it. It holds a special place in my heart.
To speak to one of Stocksigns' signage experts, please call 01737 774072.
Author: Jonathan HammondApproval: Alice Straker (Approved) / Emma Marsh (Approved) / Daniella de Nobrega / Steve Wright