Now available from Stocksigns…
Enviro Signs – Recyclable Display Boards & Hoarding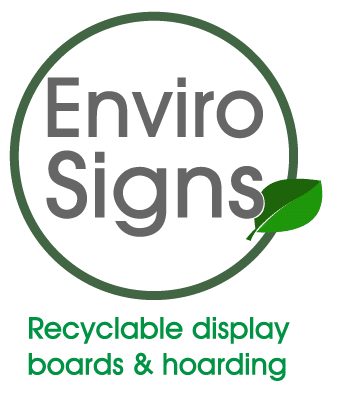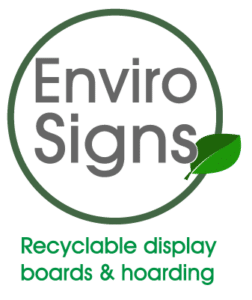 Now available – Enviro Signs, a range of environmentally friendly sign alternatives for conscientious contractors.
Stocksigns are pleased to now offer many standard signs in two alternative materials, both of which are 100% recyclable and can help companies looking to improve their green credentials.
Non PVC Bubble Board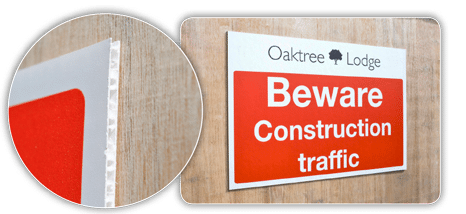 The Enviro Signs bubble board is sturdy, rigid with a smooth print finish and excellent display appearance.
Being 100% recyclable the bubble board offers a hard-wearing temporary signage alternative to conventional plastic and foam boards. The board is also suitable for use as construction hoarding with its rigid and non-absorbent quality.
Key Features
An Environmentally Friendly Non PVC Product – 100% Recylable
Water Resistant
Lightweight
Excellent Smooth Print Surface
Excellent Fabrication Properties – Routable & Foldable
White Centered Finish With UV Additive to Improve Exterior Performance
Guaranteed 36 month lifespan when used outdoors
Board Thickness – 3mm
Maximum Standard Panel Size – 1220mm x 2440mm
Download the Product Information Sheet
Bring your messages to life with the Enviro Signs Range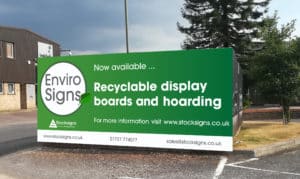 Using Enviro Signs allows you to create an innovative and professional look to communicate your safety and sales messages to potential customers and the general public. Both products can be used to create individual signs or large scale hoarding panels.
Extra Peace of Mind at No Extra Cost
Helping the planet does not need to cost the earth!
The Enviro Signs range is currently available at the same price as signs produced on standard 1mm plastic.
For more information on the Enviro Signs Range, please contact our sales team on 01737 774077.
(We apologise that this range is not yet available to purchase via the website)