The 2007 No smoking legislation brought about big change for businesses, however this legislation doesn't cover e-cigarettes/vaping. As there is currently no legal requirement to ban or restrict the use of e-cigarette smoking, businesses are taking their own stance on whether to allow employees and customers to use e-cigarettes in the workplace or while out socialising. With new concerns from health officials regarding the dangers of e-cigarettes the debate  has intensified.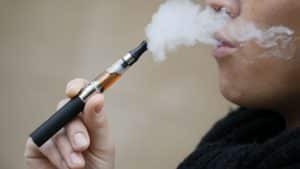 Southern Rail have introduced a network wide ban to prevent customers smoking
e- cigarettes on their trains or stations. Southern Rail's ban follows decisions by Govia Thameslink Railway, Transport for London, Chiltern Railways, ScotRail, South West Trains and East Midlands Trains and MPs have been banned from using them in their offices at Westminster.
The Public Health Bill proposed by the Welsh government planned to make it illegal to use electronic cigarettes in the workplace, pubs, clubs and any other public enclosed areas in order to dissuade users in the same way as the ban on tobacco. However the proposal collapsed due to a lack of support and the ban will be dropped from the future public health bill legislation.
Malta, Belgium and Spain all have similar laws in place with regards to e-cigarettes but the rest of the UK currently have no plans to introduce any bans. However, advertising has been targeted with investigations in to TV adverts being carried out and a total ban on any advertisement on social media.
For businesses wishing to prohibit e-cigarettes being used on the premises, Stocksigns has four electronic cigarettes signs available, allowing different combinations of regular no smoking and electronic cigarette permissions. These signs give visitors and staff clear instructions on your company's policy regarding smoking.
No Smoking/Electronic cigarettes allowed sign. Advises staff and visitors that they can they cannot smoke tobacco cigarettes but electronic cigarettes are permitted.
Electronic cigarettes allowed sign. Advises staff and visitors that it is permitted to smoke electronic cigarettes in that area
No smoking and no electronic cigarettes sign. This informs that neither tobacco or electronic cigarettes is permitted. This sign is idea for front of building areas.
No electronic cigarettes sign. This sign is ideal for internal areas of your building. This will inform all that smoking e-cigarettes and vaping is not permitted.