Safety organisations are becoming increasingly concerned about those who risk their lives by trespassing in both active and disused quarries. In 2014 alone, there were six fatalities involving members of the public at former quarry sites, all of which were water related.
After these incidents, all to

o often, their friends and family believe that the victims were not made aware of the risks they were exposing themselves to, and that they thought they were engaged in a harmless bit of fun.
Therefore, it is vital to have large, clear signage in order to not only to deter trespassers, but to also warn of hazardous areas and materials. To deter trespasses and limit liability, signs must be compliant with the latest regulations. They must be visible, clean, clear and concise to be effective.
Stocksigns provides a combination of friendly knowledgeable staff, durable, clear signage and fast delivery to help you keep your site safe and complaint.
We can help you to highlight the dangers present in quarries that may not be evident to visitors, especially those who are on your premises without permission or when the site may be closed. This can include:
Deep lakes, very cold and with hidden currents – even the strongest swimmers have drowned due to the impact that extreme cold has had on their bodies.
Stockpiles of sand have been known to collapse and suffocate people whilst tunnelling or digging holes.
Quarry faces have loose rocks and boulders.
Machinery and other obstacles can seriously injure people riding mountain or trial bikes.
We can offer a range of different signage solutions to suit your needs such as:
• Banners
• Post fix signs
• Free standing shield signs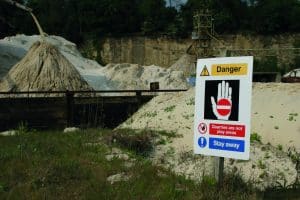 Keep your site safe, call us today on 01737 774072 or send an email enquiry to our experienced sales team.