The winter weather in the UK is often variable and unpredictable, so it pays to be prepared in order to ensure the safety of your site or premises.Cold weather and icy conditions can make conditions on construction sites, car parks and open spaces hazardous.
The Department for Transport reported that in Great Britain in 2014, snow or ice was present on the road when 29 people lost their lives, 251 suffered serious injuries and 2,274 had minor injuries.
These figures highlight the importance of having the correct signage to help prevent the risks of accident and injury to employees and visitors. Below are some useful winter sign suggestions:
Traffic & Car Park signage


Winter driving conditions can be hazardous for motorists. Ensure road closures and driving instructions are clear with these road signs.
All of our traffic signs conform to The Traffic Signs Regulations and General Directions 2002 No. 3113 design layouts. If you require CE certified signs for use on a public highway please call email our sales team for a quote on 01737 774077.
Shop Traffic & Car Park Signage now
Hazard Signage
Keep your building and work environment safe by warning of hazards caused by the weather. Thin ice and slippery surfaces need to be clearly marked to help prevent slips and falls.
Use Danger signs for a high level of risk, Warning signs for a medium level of risk and Caution signs for a low level of risk.
Slippery Floor Signs 
Cold and wet weather can leave floors slippery and dangerous. Slip and fall accidents are one of the most common accidents in any workplace so ensure you clearly mark the dangerous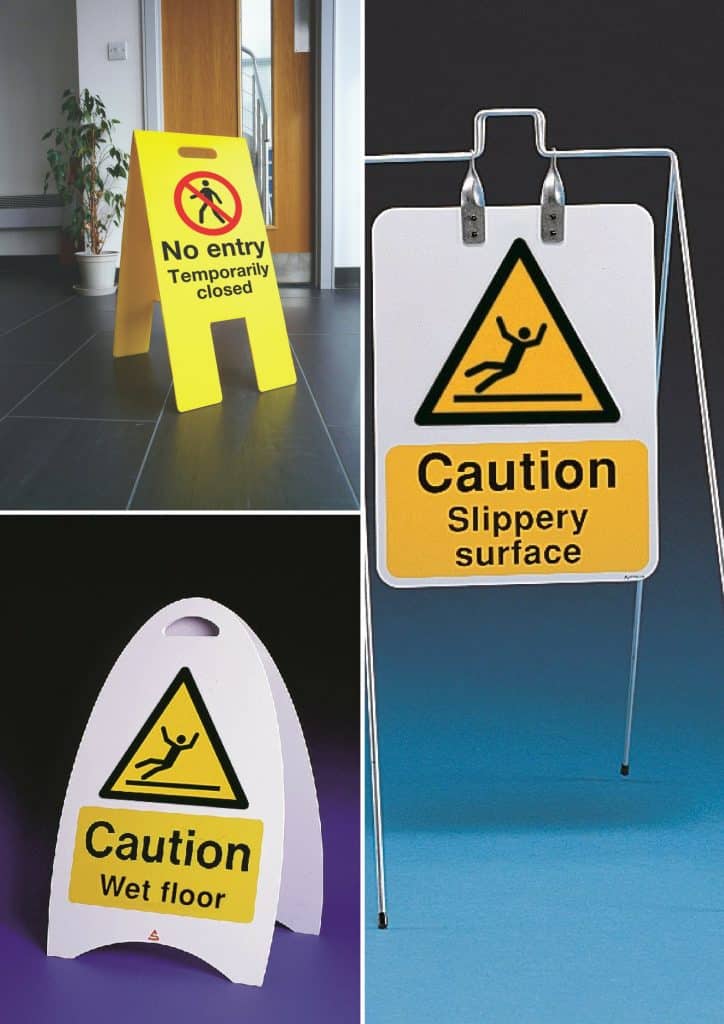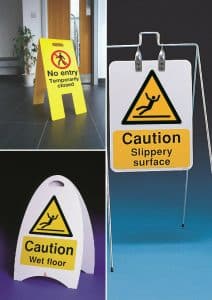 areas with the following free standing frames:
Economy A boards – A polypropylene fluted lightweight display board. Double sided and easy to assemble. Can be folded flat and easy to clean. Size: 290mm x 590mm
Shield Durable Free-Standing signs – highly visible with a large printed display area. Highly stable – ideal for retails and consumer environments. Panel size: 450mm x 700mm
Light Weight Double-sided Free-Standing Signs – Aluminium rod frame. Folds flat for easy storage. Fits KM (300mm x 400mm) signs rigid plastic sign (not suitable for external use
You can discuss a variety of frame options with a member of our sales team. Call us on 01737 774072 or email us by clicking the button below:
Not what you're looking for? Did you know that we can customise any sign you like. We can include your logo or warn of a specific danger. Check out our custom made signs page for more information.
As winter is coming…stock up on your ice and cold weather warning signs to get you through. Don't forget that we can provide all the health and safety signage you will need in order to remain compliant, check out our shop here.