Have you seen our article anywhere? Apologies if we fooled you – we couldn't resist!
This week Theresa May officially started the Brexit process with the triggering of Article 50.  As expected, many changes to laws and legislation established by the EU will begin to take place across Britain.  These changes will include all road signs which feature metric measurements.  Here at Stocksigns we have been busy designing the new signs in preparation for Britain's leave.
In 1976, three years after Britain joined the European Economic Community (EEC), Stocksigns produced our first metric signs for use in schools, businesses and on public highways.  This was because the EEC had begun the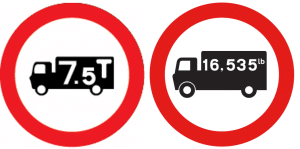 process of metrication and was phasing out traditional, imperial measurements.
When Britain has completely left the EU the metric system will no longer be mandatory.  In keeping with the changes, metric road signs will also be converted to imperial.
Original 7.5 tonne weight warning and the new imperial sign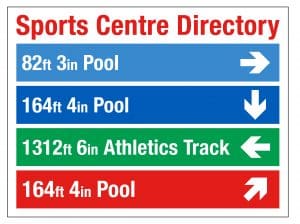 New imperial signs will be introduced gradually across the country and will be implemented by local councils, health and safety bodies and educational facilities.  As well as large signs in public places, such as wayfinding notices and motorways, the conversions will take place in sports centres, schools and nurseries.  For example, swimming pools which are currently measured at 25 metres or 50 metres will, in the future, be displayed as 82 feet 3 inches and 164 feet 4 inches.
An example of future signage for sports centres
Nicolle Kane, marketing manager for Stocksigns Group said, "We are honoured to have been asked to produce these new signs and are very excited to reveal the first pre-production examples.
"In addition to these we are also introducing a varie

ty of new safety notices to promote equality in the workplace.  As well as our 'Men At Work' signs we will introduce 'Women At Work' and 'People At Work' across the board.
Original Warning Men Working Sign and New Women Working
"An entirely new set of notices have also been commissioned.  The Brexit warning notice will be used to alert members of the public to areas which have already been converted to imperial measurements."
The new signage is expected to be trialled in Surrey within the next two years.