The Stocksigns team have been fundraising for various charities over the years. This has involved sleeping rough for the night for the YMCA, cycling to Lapland (not literally), the 3 Peaks Challenge, climbing Mount Toubkal, and this year the team have successfully hiked up and down the mountains of Dingle, Ireland.
The Dingle Dash Challenge, as we like to call it, took place on the 8th and 9th June 2019, which saw the team hike for 22 hours covering 46miles and reaching a total elevation of 9,000 ft. The team hiked and climbed their way through heavy downpour, sunburn inducing sunshine, downhill bogs and scrambled up and across rocky terrains, and successfully raised over £5,700 for RoSPA and St Catherine's Hospice!
Distance: 26.5 miles
Elevation Gain: 6,107 ft
Time: 12h 25m
Our 12.5 hours hike began at the Brandon View Point with an easy start along the road side with a few rainbows to admire. This was short lived with heavy downpour and rocky terrains soon to follow.
The climb up Mount Brandon was in the clouds with some steep boulders to climb, and slim un-even paths to follow. The team made it to the summit, exhausted and wet but with a great sense of achievement. The journey down was cold and wet for a few hours until they emerged from the low clouds into beautiful sunshine and a rewarding view over Feohanagh before the 10 mile hike and to the finish line.
Distance: 20 miles
Elevation Gain: 2,977 ft
Time: 9h
The distance for Day 2 may have been shorter, but the team had started the day trying to lessen the pain in their feet and legs. After a few stretches the team began their hike to Eagle Mountain. Walking through Dunquin up and down steep hills, we had a highly varied weather again with periods of downpour and sunshine (80% of us are sun-burnt!)
The team made it to the top of Eagle Mountain with fantastic views all around them. After a quick break to re-fuel the team set off down the other side, with their knees crunching all the way down!
The fantastic views most certainly helped the team ignore all their aches and pains, but the challenge proved more difficult that our previous 3 peaks challenge!
The hot sunshine, downpour, slippery bogs, boulders and rock climbing put the team through their paces, challenging their physical and mental strength, but they never stopped smiling! At every peak the team proudly flew their banner with all our sponsors and our chosen charities.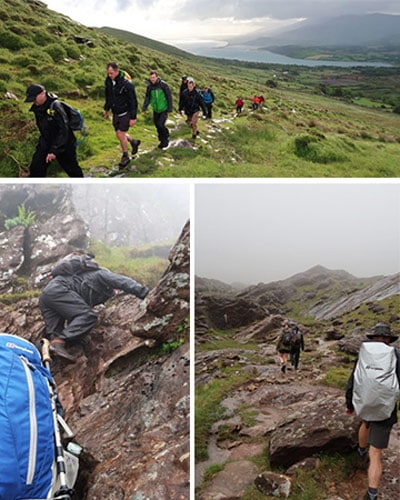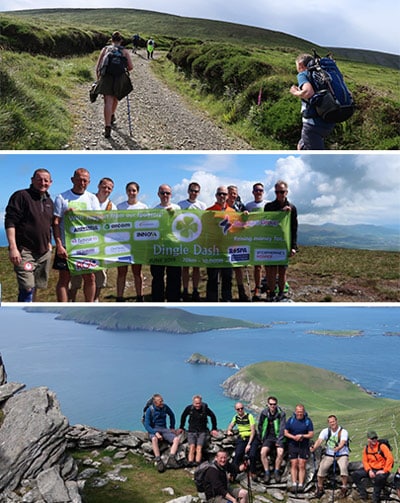 The Hiking Team
Gavin, Adam, Rob, Keith, Tom, Danny P, Santosh, Neil J, Danny A,
Daniella, David, Lillian, Dave, Neil Price
The Support Team
Pete and Nigel